Path Publishing House / Theosophical University Press Online Edition
H P B
The Extraordinary Life and Influence of Helena Blavatsky,
Founder of the Modern Theosophical Movement
Sylvia Cranston
& Carey Williams, Research Asssistant
---
Third and Revised Edition. First Edition copyright © 1993 by Sylvia Cranston. All rights reserved. This PDF eBook is reproduced by permission of the author's estate. Print version also available. All publications on this website may be downloaded free of charge for personal use. Except for brief excerpts, no part of this PDF eBook may be reproduced or transmitted for commercial or other use in any form without the prior permission of the author's estate.
---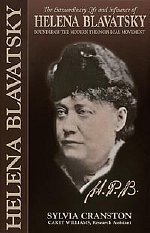 Click photo or link to open full-text PDF eBook
---
Theosophical University Press, publishing and distributing theosophical literature since 1886: PO Box C, Pasadena, CA 91109-7107 USA; email: tupress@theosociety.org; voice: (626) 798-3378. Free printed catalog available on request; also online at TUP Catalog.
---