Sunrise: – April/May 2000
---
Special Issue: Gottfried de Purucker: 1874-1942
Out of the heart come all the great issues of life. Here is where conscience abides, and love and peace and perfect self-confidence, and hope, and divine wisdom. — G. de Purucker
Content
"An Understanding Heart" by S.B.D.
"Gottfried de Purucker: A Biographical Sketch" by Sarah Belle Dougherty
"A Magic Key" by Elsa-Brita Titchenell
"Technical Theosophy - As Taught by GdeP" by Jim Belderis
"The Seven Jewels of Wisdom and the Seven Stages of Initiation" by Scott J. Osterhage
"Man on Fire" by Monica Morris
"What I Owe to a Book" by Captain P. G. B. Bowen
" 'To Live the Life . . .' "by I. M. Oderberg
"Brotherhood in the Theosophical Movement" by G. de Purucker
"My Personal Impressions of G. de Purucker" by H. N. Stokes
"A Treasury of Great Ideas" by Raymond Rugland
"A Herculean Task" by Nicholas Vaughan
"GdeP as I Remember Him" by Ingrid Van Mater
" 'Up Hearts, Ye Faithful Ones!' "by Armin Zebrowski
"GdeP's Magic" by Wynn Wolfe
"On the KTMG Papers" by Grace F. Knoche
" 'I Am the Boundless' " by G. de Purucker
"To Revive the Mysteries of Antiquity" by Eloise Hart
Direct Links to Photographs in this Issue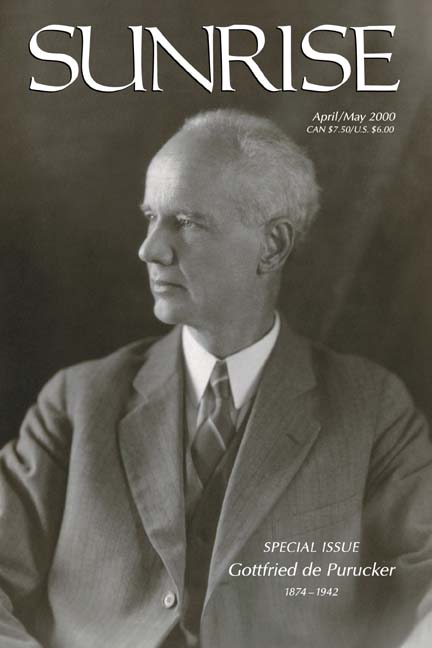 ---
Copyright © 2000 by Theosophical University Press. Copyrighted material in this site may be downloaded for off-line viewing without charge, but may not be reproduced or transmitted in whole or in part for commercial or other use in any form or by any means — electronic, mechanical, photocopying, recording, or otherwise — without prior permission from Theosophical University Press. For ease of searching, words are not accented in this version. Footnotes in the original editions have been incorporated into the text where practical.
---
---
Links to Photographs in this Issue:
G. de Purucker (1892)
GdeP with Katherine Tingley (1912)
GdeP in Europe with J. H. Fussell and E. V. Savage (1931)
GdeP at desk (1930s)
GdeP (1930s)
GdeP lecturing at Covina, 1942
Covina Headquarters (photo)
Covina Headquarters (drawing)
Oakley House, Bromley Common, Kent, England
---