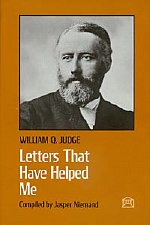 Order from Theosophical University Press
Letters That Have Helped Me
By William Q. Judge
The warmth and humanity of this collection of Judge's letters has inspired many seekers on the Path. In clear, compelling language, the author shows that in our search for spirit, the need is not to escape the world but to help transform it — through the constant effort to be compassionate, resolute, and wise in daily life.
"I would never let the least fear or despair come before me, but if I cannot see the road, nor the goal for the fog, I would simply sit down and wait; I would not allow the fog to make me think no road was there, and that I was not to pass it. The fogs must lift.
"What then is the panacea finally, the royal talisman? It is DUTY, Selflessness. Duty persistently followed is the highest yoga, and is better than mantrams or any posture, or any other thing. If you can do no more than duty it will bring you to the goal." — 2:3
Letters That Have Helped Me combines two volumes in one. The first, published in 1891, consists of letters written by W. Q. Judge ("Z") to a friend and co-worker, Mrs. Julia Campbell Ver Planck ("Jasper Niemand"). The second volume, compiled after the death of the author, contains letters and extracts from his letters written to a number of people in different parts of the world.
5 3/8 x 8, 209 pages, biographical appendix
$20.00 cloth ISBN 978-0-911500-41-7
$13.00 softcover ISBN 978-0-911500-42-4
Ordering information
Link to Full-text online edition
In Russian: Письма, Которые Мне Помогли (Online version only)