Order from Theosophical University Press
THE PATH
by Reginald W. Machell
This symbolic painting hangs in the administration building at the International Headquarters of The Theosophical Society, Pasadena, California. It is in oil and gesso, measuring 6'2" x 7'5". In the artist's words, "THE PATH is the way by which the human soul must pass in its evolution to full spiritual self-consciousness."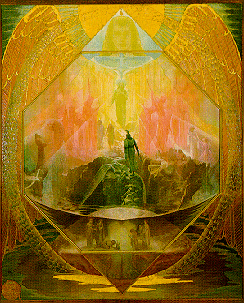 The full-color reproduction, suitable for framing, is printed on acid-free heavy paper. Enclosed with it is the artist's interpretation of its symbolism.
Reginald W. Machell (1854-1927), a member of the Royal Society of British Artists, exhibited at the Royal Academy in the late 19th century. After having met H. P. Blavatsky in London in 1888, he joined The Theosophical Society. In 1900 he was invited by Katherine Tingley to the Society's International Headquarters, then at Point Loma, California, where he gave fully of his considerable talents in art, drama, and literature.