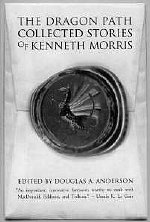 Order from Theosophical University Press
The Dragon Path:
Collected Tales of Kenneth Morris
Edited by Douglas A. Anderson
"Kenneth Morris was an important innovative fantasist, worthy to rank with MacDonald, Eddison, and Tolkien." — Ursula K. Le Guin
These forty tales comprise the complete short stories of "one of the acknowledged masters of the modern fantasy genre." Welsh writer and theosophist Kenneth Morris (1879-1937) drew from the rich currents of world thought — Celtic, Norse, Greek, Chinese, and more — portraying a broad array of characters from avatars and saints to Don Quixote, mermaids, and dragons. Delightful to peruse, The Dragon Path contains many stories reproduced here for the first time since their original publication chiefly in early theosophical magazines. Enhancing this volume is a 28-page introductory essay on the life and words of Kenneth Morris by fantasy scholar Douglas A. Anderson.
"Morris is an inspired, original writer in touch with the mythic wellsprings of the fantastic imagination . . . the greater achievement of his writing is the wedding of this lilting, varied prose with philosophical depth and an active share of wonder woven from the history, myth and legends." — SFRA Review
Published by Tor Book