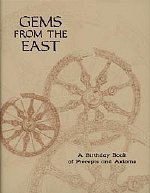 Order from Theosophical University Press
Gems from the East:
A Birthday Book of Precepts and Axioms
Compiled by H. P. Blavatsky
Writing from London to William Q. Judge in late 1889, Constance Wachtmeister announced, "We have now in the Press a Theosophical Birthday Book with 'Gems from the East.' H.P.B. has written down all these axioms and the book will I think be a popular one."
A precept or axiom, compiled chiefly from Oriental sources, is given for each day of the year, while more lengthy selections from poets and philosophers introduce the months. Attractively bound, with original pen drawings, this perennial calendar book makes a thoughtful gift.
Link to Full-text online edition