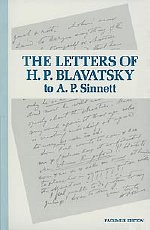 Order from Theosophical University Press
The Letters of H. P. Blavatsky to A. P. Sinnett
Transcribed and compiled by A. Trevor Barker
A companion volume to The Mahatma Letters, this correspondence from the 1880s is a profoundly moving documentary of H. P. Blavatsky's life and character. In the words of A. Trevor Barker:
"The reader is therefore left to form his own conclusions as to whether the heroic figure which stands out so vividly in these pages was . . . what she claimed to be — no medium indeed, but the conscious Agent of the Masters who sent her forth, performing her prodigious task under conditions which would make the bravest halt; an occultist pledged to silence as to the true reasons for most of her actions, ever fearful of giving out too much, but yet through it all labouring so fiercely and wholeheartedly." — pp. vii-viii
Photographic facsimile edition
Special Offer: Free Combined Chronology with retail purchase of both The Mahatma Letters (cloth or softcover) and The Letters of H. P. Blavatsky to A. P. Sinnett.
Link to Full-text online edition